The May fishing charters were exceptionally busy this year and the schedule continues to fill up about six weeks in advance. The water around Southwest Florida has been beautiful and the weather is getting warm.
The Cape Coral fishing charters this May experienced some highs and lows. May in Cape Coral and all around Southwest Florida was unusually windy pushing in a few late season cool fronts. These fronts brought beautiful dry air and lead to some chilly mornings. This wind did not help the fishing though and even forced to cancel or reschedule a few trips.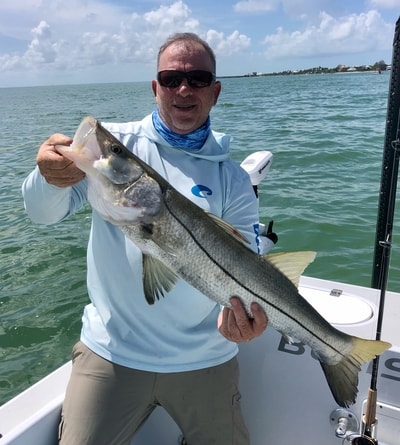 The inshore fishing has been getting better and better with redfish filling into the mangroves and sea trout all over the flats. Big snook and even bigger redfish have been plentiful around the passes. I haven't spent much time offshore this month due to the wind and focusing on tarpon fishing. The few fishing charters that I did sneak offshore, we spent our time shark fishing and were very successful. 
The tarpon fishing around Southwest Florida really got good as the weather calmed down in the last week of the month. When the wind stop blowing the tarpon got very happy and hungry. There were no shortage of silver kings in the Cape Coral area. 
There are a couple of days available at the end of June and July is filling up. So if you're thinking of taking the family fishing this summer, don't hesitate to get your name on the calendar.