The new year started right where 2020 left off. For most that wasn't to good but for the lucky ones in Southwest Florida that meant great fishing. January kept me very busy with plenty of Cape Coral Fishing Charters. The weather was pretty cold by our standards, but the fishing remained good despite the fluctuating temperatures.
Before talking about the fishing I'd like to say thank you again to all of our loyal clients. The amount of returns clients and referrals left me feeling extremely proud of the company and business that I'm still working hard to build. It would not be possible without the support of my incredible clients.
Now onto the fishing report, since that's what this section is about. The water temperatures plummeted this month which lead to some changing tactics throughout the Southwest Florida area. My Cape Coral fishing charters went through a lot of shrimp this month and saw high volumes of fish. When the wind was blowing strong we would stay inshore and fish areas blocked by the wind and preferably in the sun to keep us warm.
This fishing was generally done around docks which produced a lot of redfish, sheepshead, small grouper, mangrove snapper, and jack crevalle. We also targeted the oyster beds and grass flats during many of our Cape Coral fishing charters throughout January.
While fishing these areas we used plastic lures to trick the fish into eating, this style of fishing produced countless trout, ladyfish, and a few Spanish mackerel mixed in.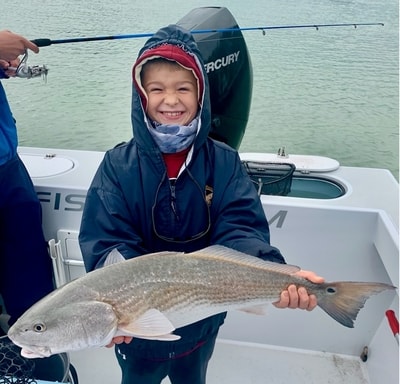 One of my favorite inshore fishing charters from this month was having the Fleitas family back for the second year in a row to celebrate Junior's birthday. Junior turned 7 this year and wanted another fishing charter like last years for his birthday.
We started with shrimp fishing some docks and got a lot of mangrove snapper, then we got the big one. Junior hooked a big redfish from underneath a dock and fought it without assistance all the way to the boat. This was the biggest fish he's ever caught and kept a smile on his face the rest of the day. Naturally we celebrated with cake and then caught a bunch more fish before calling it a day.
When the winds calmed down, the cool water temperatures had the Southwest Florida nearshore fishing bite going crazy. I hate to say that fishing was easy, but it was just easy anytime we made it offshore this January.
My Cape Coral fishing charters spent a lot of time bottom fishing between 4 and 6 miles offshore this month. On almost every drop of the bait, we were hooked up. This type of fishing lead to many satisfied clients eating the freshest fish dinners you can get.
We were able to catch plenty of mangrove snappers, lane snappers, gag and red groupers, sheepshead, triggerfish, and porgies. All of which are mild not fishy flavored and delicious any way that you cook them. A few clients took their fish to local restaurants and had their fish prepared for them in a variety of ways.
My proudest offshore fishing trip this month happened yesterday on my dads 60th birthday. My dad introduced me to fishing and has supported my passion for fishing from day one. So for his birthday I took him and my brother offshore fishing.
My dad spent all of his time inshore so this was pretty new to him. Once at our spot we made short work of catching big snapper on light tackle. We got our limit of fish quickly and had a beautiful boat ride back to the marina. It was a perfect day that none of us will forget.
Spring dates for the Cape Coral fishing charters have been filling up fast. If you're coming to the Southwest Florida area and considering a fishing charter book it early or you might not get out.