November started out very windy including a close call with a late season hurricane. Hurricane Eta worked its way along the Southwest Florida coast for a few days in early November causing heavy rain, high storm surge, and heavy winds. During the hurricane many docks around Cape Coral saw a lot of damage and forced us to cancel fishing charters. After the rain passed, the wind stuck around but the fishing charters still went as scheduled.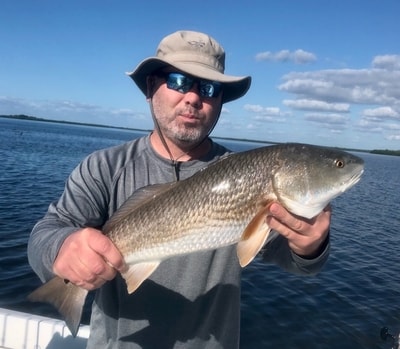 November also stayed hot in southwest Florida. This had the fish eating everything in sight. Due to the wind, most of my Cape Coral fishing charters stayed inshore. The tides were starting to get low this time of year so we focused the fishing around shallow grass flats and oyster bars. 
Fishing the flats with live bait and light tackle is one of my favorite styles of fishing. We would fish a live pilchard under a cork near the deep edges of the flats. This provided a lot of action and variety of fish on my Cape Coral fishing charters. Often times throughout November we would catch snook, trout, and redfish at the same spot. The smaller fish were eating baits on nearly every cast. 
Every now and then the bigger fish would beat the small ones to the bait and really get the drag pulling hard. Often while fishing the flats we would find schools of jack crevalle as well. They fight very strong and regularly were caught two and three fish at the same time. The jack crevalle are always a crowd pleaser on a Cape Coral fishing charter. 
One of the highlights of the month was when the wind died down and we were able to get offshore. The nearshore wrecks are full of life this time year. With a little shim and patience we targeted Bonita, kingfish, and cobia with ease this time of year. All three of these fish fight extremely hard and can challenge even the best anglers. The reward is worth the challenge though as the Bonita are beautiful for pictures and the kingfish and cobia are both delicious. 
One trip in particular this month is one I won't forget anytime soon. I had the opportunity of fishing Paige and her dad Daren on Black Friday. Our Cape Coral fishing charter began at South Seas Resort and immediately headed offshore. We got a wreck and had it all to ourselves.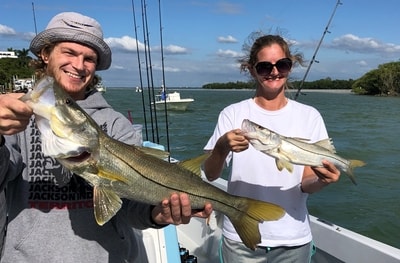 I threw the first bait into the water and before I could get the second fishing rod out, Paige was fighting a big kingfish. After landing that one, we made short work of three more kingfish and a couple of Bonita.
After getting the kingfish on ice, then asked Daren what he wanted to target next. Daren told me he's never caught a redfish and would like to mark that off his list. So we ran back inshore and were able to catch a beautiful redfish in short order. We finished the trip by catching one snook after the next as the sun set on a beautiful day. 
December is starting with a big cold front that will get even more fish moving, including sheepshead and grouper. Spots are still available for December so book your unforgettable Cape Coral fishing charter soon.